VillAllure is Located in Beautiful St. John, U.S. Virgin Islands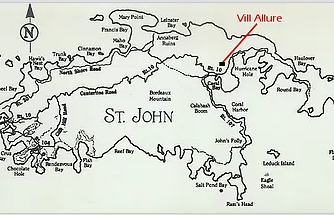 VillAllure commands magnificent water views of Hurricane Hole, a U.S. Virgin Islands national park treasure, with its pristine unspoiled shorelines and Coral Bay from 200' above sea level. The house is nestled into a secluded ½ acre sloping parcel facing east, surrounded by a variety of mature native tropical plants and fruit trees. Ample off road parking for six or more vehicles provides convenient access while beautiful sunrises and gentle Caribbean trade winds enhance the relaxed and romantic atmosphere of villAllure.
St. John is one of the three U.S. Virgin Islands and is 2/3 National Park. Ruins of sugar mills, and estate homes commemorating the history of St. John are found throughout the park. Hiking, swimming, snorkeling and a full array of water sports are available. The Park Service Information Center in Cruz Bay has a wealth of material on island and park activities.Coral Bay and the town of Cruz Bay offer an eclectic selection of groceries, art galleries, a micro brewery, water activies, fine shops and restaurants with entertainment.