Located on the eastern side of the Island of Saint John, in the U.S. Virgin Islands. VillAllure overlooks Coral Bay and Hurricane Hole. Due to it's unique location, villAllure offers one of the best views on the entire island! We could tell you about how great villAllure is, however we would rather let our previous guests speak for us!
"We had a great stay at VillAllure. The house and deck are super spacious so even though we were a bigger group, we did not feel cramped. The layout is ideal if you're traveling with older kids and adults. We loved being so close to Coral Bay."
"My family, spouse and I enjoyed our stay at VillAllure. The villa accommodated us very well and Coral Bay was a convenient location from which to visit the sights around the island.." ~Robert
"We had a fabulous stay at your beautiful villa, and fortunately, the rain let up and we had some beautiful weather.
I loved both ends of the villa. The covered patio and sitting area off of the kitchen was one of my favorite spots, and the pool area was another favorite. We truly had a restful and relaxing stay at VillAllure and will definitely recommend it to friends.
Thank you again and have a blessed holiday season." ~Lois
"Had a great time on our family reunion and this villa was gorgeous. Lived up to all expectations and everyone loved it." - Geoff
"The porch with its many seating areas has a beautiful view, comfortable seating and a wonderful place for your group to hang out." - Susan
"Such a gorgeous place, perfect for a large group who wants together time yet also private time. We were basically two families and had two separate kitchens/grills. The bedrooms all have their own bathrooms and are very separate for nice privacy. My sister has a bad knee and we were worried about other reviews with the amount of steps. This was not a problem at all. Every amenity you could want was there. The views of Coral Bay and the stars are spectacular. Do not hesitate!!!" - Caroline
"Our family of 9 had a great time here. Lots of room and we loved having meals outside on the deck!" - Hallie
"Villa allure was absolutely amazing! We had a group of 10 people and we were all very comfortable here. The location is phenomenal, a short drive or even walk (just be aware of the goats and donkeys!) to Skinny Legs and Love City market. Between the kitchen terrace and pool patio and everything in between there were plenty of places to relax or hang out. The views of Hurricane Hole and Coral Bay were spectacular and the sunrises were truly one of a kind. The hosts were easy to work with and accommodating, the villa had everything we needed including toilet paper, fully stocked kitchen, Wi-Fi, clean towels/ sheets and much more. I would highly recommend Villa Allure for anyone looking for an amazing St. John experience." - The Clarkes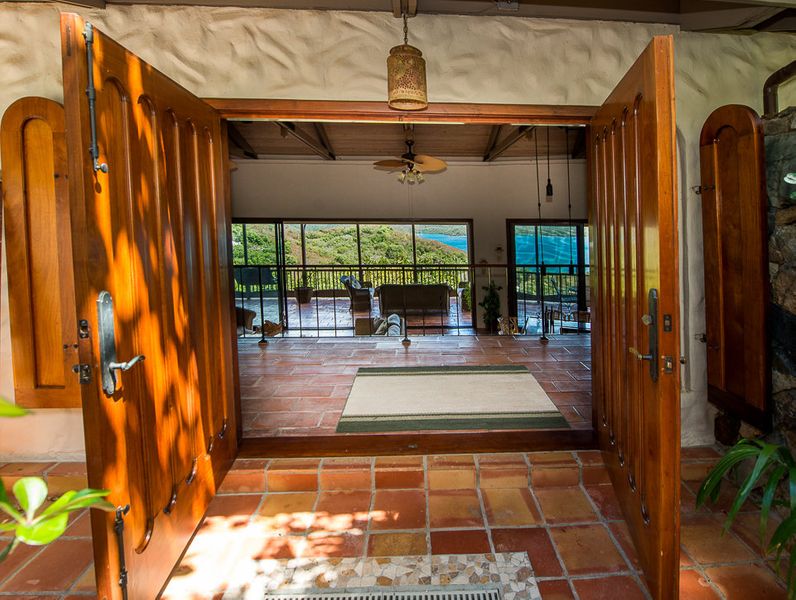 "Beautiful property! This is a beautiful villa! Spectacular views! Individual rooms with own entry. Many steps to walk down to grand entry, but lovely stonework and landscaping. We would definitely stay here again!" - Katherine H.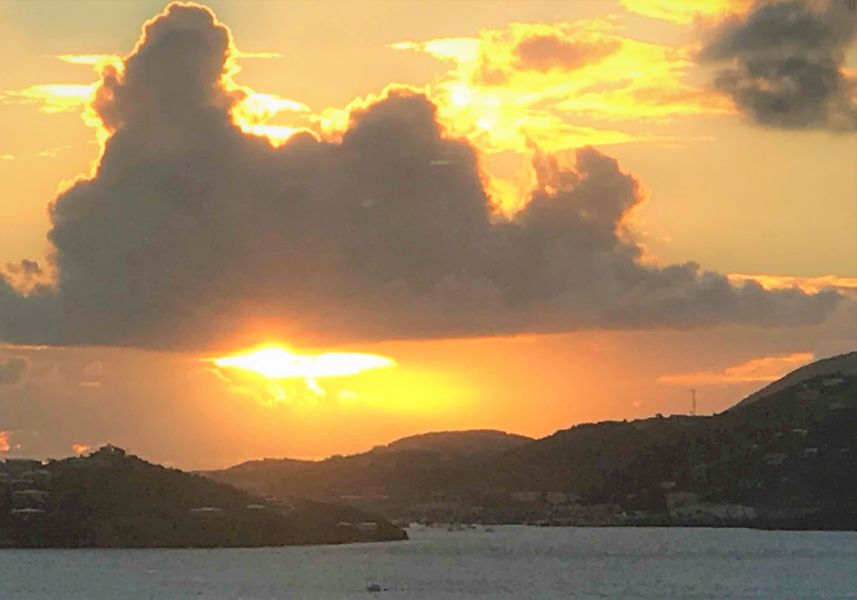 "We had a great vacation at Villallure. The villa was clean and spacious. Loved sitting on the deck at night. The landscaping was beautiful. The owners provided plenty of beach chairs and coolers. We had a great time. Thanks" - Deborah

"Very nice home with plenty of room for 9 adults. Excellent views of Coral Bay. Home had all of the amenities you need. Cooked and grilled at the house as well as going to restaurants in Coral Bay side and Cruz Bay. Skinny Legs was the favorite hang out for American food and awesome Key Lime Pie. Home master bath - hot water in shower was good for about 5 minutes or so and started to get cold. Beds are firm. Steps down to home could be difficult for older tenants - steep and around 27 steps! Steps are good for a morning workout before you head out. Appliances all worked and plenty of plates, cups, glasses, and silverware. Excellent home for a week or more stay!!! Thank you!" - Shawn G.​
"Thank you Shawn for writing a review of your stay at villAllure. So happy to hear you had a wonderful time and have made many lifetime memories. As you know, water is very precious on St. John, and therefore, the hot water tank in the master bedroom is small. We encourage turning on and off the water as you need it. That should have been explained to you, and I'm sorry if it wasn't. We would love to have you stay with us again sometime! Sincerely, Karen and Mike"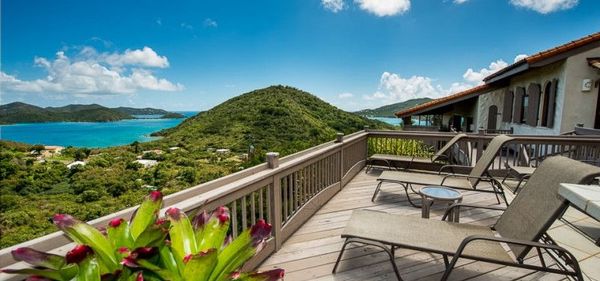 "We really enjoyed our week at VillAllure. The house was large and more than enough to accommodate our family and give us plenty of space to spread out and enjoy. Would definitely stay there again!" - Eric L.
"We recently stayed here with two other couples for 10 glorious days and nights. It was a perfect spot for all our needs. The home is very large and well maintained. You could have privacy if you wanted but also had plenty of room for everyone to gather together. Every evening we spent our nights on the veranda enjoying dinner and games with other family members. It was close to all the restaurants in Coral Bay. We went to Indigo Grill, Aqua Bistro, Skinny Legs, and Miss Lucy's. The constant breezes were such that we only used the AC in the master bedroom twice during our 10 night stay.
As in previous reviews, there are a lot of stairs! 38 stairs down from the driveway entrance to the front doors. We kept that in mind when going up to the car...Don't forget anything!!
​My personal favorite spot in the whole house was the little table and chairs on the deck right outside the main kitchen. It was so relaxing and peaceful to sit there and let the breezes wash over you and watch the boats in the Coral Bay harbor.
​The owners have provided plenty of beach chairs, coolers and beach towels for your trips out and about. We saw so many turtles at Maho Bay that we lost count. We also went to Salt Pond Beach, Hansen Beach, and Great Lameshur Beach. The coral has taken a tremendous hit from the hurricanes and will take years to come back but we still saw lots of fish, turtles, octopus, squid, skates, spotted ray and baracudas. The beaches are beautiful and inviting as always!
Can't wait to come back!" - Victoria F.
"Enjoyed our week in St John. House was big and spacious. Definitely would stay here again." - Brian B.
"We spent 8 days at VillAllure with our 2 children and their spouses. We were there Jan 9th-16th 2021. The newlyweds chose the room by the pool. My daughter in law picked one of the rooms upstairs and we took the other one. All bedrooms had air conditioners in the room. These three bedrooms were equal king size bedrooms. The lower two bedrooms were queen size beds. They would be great for anyone wanted more privacy.
​The two kitchens were the best stocked we have ever had. Pans, many different types of dishes, and an array of glasses of all types. We cooked all breakfasts in, packed lunches, and made some suppers in. In the other kitchen, we used to make and store cocktails and prepare appetizers. Two living areas inside and the only time we used them was to watch our beloved Packers in the playoffs. I loved all the benches around the house particularly the one downstairs to have coffee and enjoy watching the island wake up. Also, the bench by our room was handy to put snorkeling things on.
​The large outside areas are outstanding. There are several conversation areas or spots to get away from everyone. The weather was picture-perfect, so we spent most of our time in the outside area. Beach chairs were in good shape. The pool was as described, small pool. We only used it once, pretty chilly in Jan. The decor in the house was very nice and the furniture was in good shape and more on the high end. The formal dining room was beautiful with an outstanding view. We had a couple of minor issues we let the manager know about and he had them fixed the same day.
​We stayed during Covid and found many restaurants on Coral Bay side to eat at and only went to Cruz Bay a couple of times. We liked Rhumb Lines, Caribbean Oasis, Miss Lucy's, Aqua Bistro, Skinney's, and Estate Corner. I read there were lots of steps to get down to the house. I had a recent knee replaced and mastered them without any problems. 4 switchbacks on a paved road and you have arrived at the villa. Plenty of parking spaces.
​We all loved our stay and would not hesitate in renting again. If you are thinking of going, just do it!" -Cindy G.
"We were 11 people 8 adults and 3 children. The bedrooms are staggered on 3 different levels which allowed each couple total quiet and privacy. The main living area and terrace are larger and even nicer than the pictures show. The house is so open and breezy that while AC is installed it's not really necessary. The views are fantastic and Coral Bay is largely as I remember it. Try Hansen beach, and Salt Pond, good snorkeling at both. Miss Lucy's serves the best food on the island." - Karen B.
"We just got back from a stay at villa allure and are missing it already. There were seven of us, two couples and three adults. The villa gave us plenty of private space as well as huge communal areas to hang out comfortable. There are definitely a lot of stairs, so be prepared for that, but everything else was wonderful. I do feel like it's probably a better rental for adults and older children versus families with young children. House was clean and well stocked with any kitchen item you could need. We had groceries delivered and the property manager worked with the grocery store to get the order to us seamlessly." - Laigh S.
"We just returned from an 11 night stay at VillAllure - enjoying every minute! The photos are amazing, but to be there is even better. There were 10 of us and the house is sprawling with more than enough room to be together or have some time alone. Our morning views, and coffee clutches, over Coral Bay were a great start to our day, and the evenings on the veranda or the open deck looking onto Hurricane Hole were a great wind down. We ate in several nights with a well equipped kitchen which made for wonderful meals. Other nights we enjoyed the local restaurants, notably Indigo at the bottom of the hill, brunch at Miss Lucy's and fish n chips at Shipwreck Landing. We swam and snorkeled at amazing beaches - Salt Pond, Jumbie, Maho, Francis Bay, chartered a sailboat for an afternoon/sunset and hired a private chef to cook an amazing meal at the house. What an experience! Karen the owner was so easy to deal with and extremely helpful with suggestions. Gwen, the property manager, was attentive to our needs and checked in to ensure we were set at various intervals. I would highly recommend the villa - it is your own mini resort with abundant decks, tropical gardens, secret hideaways, small pool, easy access to beaches with amazing snorkeling and a view to a kill!" - Larry of Deep River, Connecticut
"A much belated review on a fabulous property. I wrangled a group of friends - 4 couples and one single - to rent the whole property. We LOVED the views, playing music on the Veranda, eating at the excellent restaurants in Coral Bay, snorkeling and hiking all around the island, and taking the relatively short (but windy) drive over to Cruz Bay where the dive shops are located.
While having the whole house is definitely preferred - the main kitchen and house are AMAZING - the one or two bedrooms available in the separate guest house are also really, really nice... A perfect get-away for one or two couples. Just say yes. You will be glad you did!!!" - Gary of Aspen, Colorado
"Great House And Great Views! We had two families with a total of 9 folks staying here. Plenty of room for everyone and lots of areas to hang out. The views are great. we prefer coral bay over cruz bay and this house and location fit us perfectly. We loved sitting on the multiple balconies with the island breeze and relaxing. The owner was great with answering questions and making suggestions on places to eat. We would definitely stay here again." - DS from Texas
"Exactly how it was described and photographed. We had all 5 rooms full; 10 guests total and there was more space than any of us ever needed. I read in other reviews people could have gone days without seeing other guests and it's totally true. The house is spread out in such a way that it feels more like 2-3 houses in one. Every room had complete privacy. I had lots of random questions at random times before our trip and the homeowners were very helpful and prompt in answer my questions. The only reason I didn't give the house 5 stars was because 1. even though there are 2 kitchens, they are both small and it's hard to cook with a big group. 2.The pool is really small. That being said neither of those "complaints" were a surprise to me. Like I said the photos clearly show the size of the kitchen and pool, so if you don't need a giant kitchen and giant pool (that let's be honest you won't use anyway because your there for the beaches) then the house is perfect for large parties." - Kayce B.
"Loved our stay at VillAllure and can't wait to go back. My breath was taken away every time I walked through the door and saw the floor to ceiling views of the bay. I loved spending time on the huge balcony. The spacious, beautiful, clean house has everything you need if you don't want to leave! And if you want to venture out, soft sandy beaches, hiking, restaurants, bars, shops etc. are just a short drive away.
I recommend this house to anyone I know heading to St. John - great place to stay!" - Kim of Columbus, Ohio
"I usually refrain from commenting online but, I must make an exception when it comes to our experience at VillAlure. The property and surroundings are second to none, and the owners are no exception. We've been to St John a number of times and stayed all over the island and by far this was the villa for us. Rarely do you find the quality construction and upkeep of this level in a rental home. My wife and I originally had planned on a week stay but everything was so perfect, we called Cimmeron as well as the owner of the property and they were very accommodating in our requests. I will be back. Thanks again." - JD.
"We had one of the best vacations imaginable at villAllure in Coral Bay! The home is beautiful with amazing views of Hurricane Hole and Coral Bay. VillAllure has everything you need to feel at home. It is such a wonderful, relaxing place, we were able to unwind within hours of our arrival. The owners were great to work with and had outstanding recommendations for dining, the best beaches and entertainment. We hope to be able to visit villAllure again someday." - Sonja K., Columbus, Ohio
"In mid-April my wife and I were finally able to get away for a much-needed long weekend away. Karen at Villallure went out of her way to help me put together this special visit to her lovely home. We stayed in the Guest Cottage part of the house and loved every minute. The views were wonderful, the house very nicely appointed, and the coral Bay side of the island an absolute delight. I would strongly recommend this home as a perfect spot to get away and recharge your batteries. We will definitely be back!" - Bill P. of Charlottesville, Virginia
"We just got back from a great week at Villallure on St John. We had two families of 4 staying at the house and we had plenty of room. More than enough space as we barely used some of the rooms, like the extra kitchen and extra living room. The views are breathtaking and the long deck with very comfortable furniture made this a favorite hangout the whole week. The location is great; the eastern end of the island really allows you to get "away from it all". The owner is great to work with; the property managers are helpful and very responsive. The Coral Bay area has lots of good restaurants within a short drive or even within walking distance. My one piece of advice: make sure you have a 4-wheel drive car; our rental company "didn't have one" even though we reserved one and we drove around this mountainous island in a Ford Focus. If we have the opportunity to come back to St John, we will definitely stay at Villallure again!!" - David, Stamford CT
"We just returned from four nights at the VillAllure Guest House and all my wife can say is "when are we going back!". The views are outstanding, and the deck and pool area blissfully quiet and peaceful. We were looking for a place to relax and recharge, and this was it. We spent every morning lying in the sun on the deck, and every afternoon exploring the island. The guest house is a small part of the overall property but is beautifully finished and furnished. Everything we needed was right there and in great condition. The home was spotlessly clean as well. As owners of our own rental home, we appreciate the effort that goes into maintaining a home like this and found ourselves quite impressed.
We originally contacted the owner who was wonderful to deal with. She handed us off to the management company, and they did a great job. They answered my many questions in the weeks leading up to the trip and met us at the ferry to get us to the house. We were even given hiking recommendations (Rams Head is a must do) as well as great dining advice.
This trip was a surprise get away for my wife, and VillAllure was definitely a good choice. We'll be back."
"We have rented homes on St. John for about 5 years, but none of them can beat the breathtaking views of VillAllure. Access by a fully paved road was a great way to start. The layout of the conveniently located home was very unique, comfortable, and worked well for our travel party. Everything we could possibly need was thought of by the owners in advance and there for our use. We enjoyed gathering by the pool each night and gazing at scenery that continued to take our breath away from the moment we stepped on the property. One of our favorite spots was the garden that attracted many hummingbirds. We would open the French doors off the kitchen, take our breakfast outside, sit in the white chairs strategically placed to view the harbor, and relax while watching the hummingbirds dart from flower to flower. Without a doubt, we will be back. Thank you for allowing us to stay in your beautiful home, our family enjoyed VillAllure tremendously." - Denise R. NJ
"VillAllure is a beautiful home with stunning views of Coral Bay and Hurricane Hole. We have vacationed in St. John each year for the past 20 years and know the island very well. Of all of the homes we have stayed in VillAllure is one of the very best. The location makes for easy drives to the beaches on both the north shore and south shore. And, you can walk to Skinny Legs. The home is clean and well maintained. Everything you need is on site. Karen, the owner, is knowledgeable, helpful and very friendly. We highly recommend VillAllure! We will be returning!!" - John, Northeastern USA
"My husband and I have had the pleasure of staying at this magnificent home twice over the past few years. The house is gorgeous, and the views are like a post card. We had a group of 8 adults and there was more than enough room for all of us. The house is beautifully decorated, fully stocked, spacious and relaxing. The enormous deck & pool area were perfect for lounging around and taking afternoon naps! There are two full kitchens & plenty of outdoor seating for meals. We started our days having breakfast on the veranda and spent many evenings having drinks & BBQ's watching the sunset. The island is small, so very easy to drive around. The beaches are spectacular - the water is warm, clear & inviting. There are great little restaurants & lots of easy day trips to other islands. We did a lot of sightseeing but could easily have spent our days hanging out at the house. Skinny Legs restaurant is at the bottom of the hill - definitely a must. The homeowners Mike & Karen were great to work with and so helpful with ideas of what to do and where to go in the area. Having a car is a must and there is plenty of parking at the house. The atmosphere in the area is very laid back, so shorts & sundresses are perfect. I can't wait to go back!" - Katie, California
"VillAllure is much nicer than described. The accommodations are clean and new with everything provided that you could possibly need for your stay, not to mention the beautiful view. The gardens are lush, and we really enjoyed the large deck. The owners, Mike and Karen, were wonderful - very gracious and full of suggestion about where to eat and what to see on the Island. Right down the hill there is great shopping and the best burger I've ever had at Skinny Legs. The people on the Island are as friendly as you will find, and we enjoyed the laid-back atmosphere. With so many amazing beaches within a few minutes' drive, lovely people, and plenty of delicious restaurants to choose from, we have no desire to go anywhere but St. John's USVI. We have stayed at another villa on the island but find VillAlure to be our favorite. Also, make sure to try the lobster eggs benedict at Miss Lucy's - fantastic!!" - Misha, Temperance, Michigan
"A BEAUTIFUL HOME AWAY FROM HOME - A TROPICAL PARADISE WITH ALL THE AMENITIES AND CONVENIENCES YOU WOULD TRY TO HAVE IN YOUR OWN HOME - Owner has taken great care to update and upgrade the home and all the rooms and fixtures. It is nice to have everything in good working order, look good, clean, and well detailed. A very good access road and plenty of parking." -Don, Columbus, Ohio