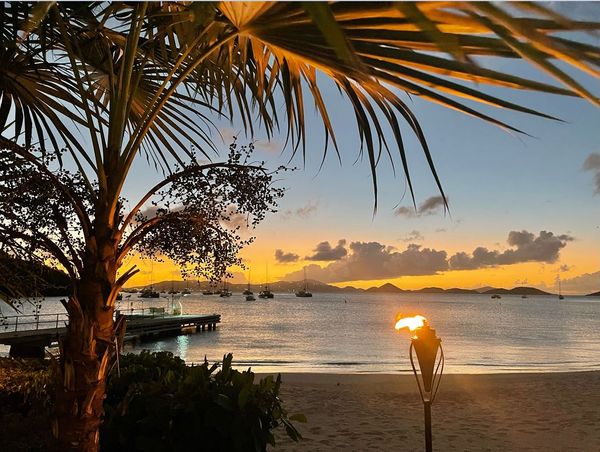 St. John Beaches
The most beautiful, top rated, and awe-inspiring, tropical beaches of the world are to be experienced and enjoyed in St. John, USVI. VillAllure is just a short distance from a few of these magnificent white, soft sandy beaches.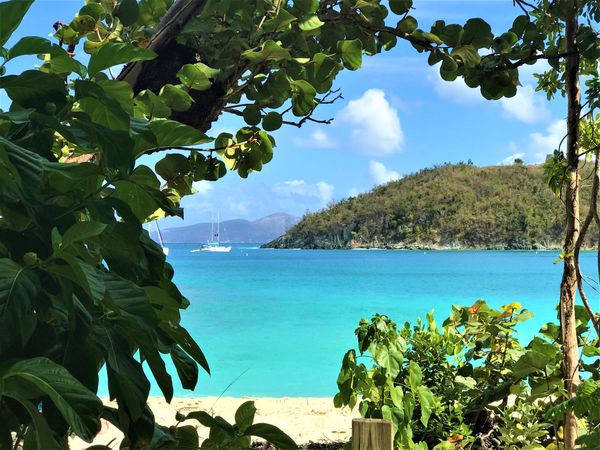 Hawksnest Bay Beach
Hawksnest Bay Beach is located on the North Shore of St. John, USVI, near VillAllure, and is part of the tropical and most scenic Hawksnest Bay National Park. It is a favorite amongst locals and visitors alike!
This is a dramatic shoreline of white, soft sand and brilliant blue waters, lined with emerald, green sea grapes and palms. This entire area is known for its striking landscapes and unsurpassed beauty, making it a photographer's dream. After soaking in the sun, it offers many places to set up a chair and relax in the shade, or to take in a spectacular sunset.
Hawksnest Bay beach has ample free parking that is within a short distance to the beach. You will find tables under pavilions to gather at while you picnic and enjoy the view. It provides clean restrooms that are fully stocked, as well as showers.
Besides basking in the sun, it also provides an assortment of fun things to do and explore. Other activities to be enjoyed include swimming, surfing, kayaking, paddleboarding, and snorkeling. Snorkeling is a favorite activity to experience at Hawksnest beach - some say that it the best snorkeling spot to be visited on St. John. The Elkhorn coral here is both unique and amazing - purple, yellow, and in sizes and shapes rarely seen. The coral is also very fragile, so it is advised to avoid snorkeling directly over the reef. Along with the coral, one will view lots of fascinating fish, sea rays and the occasional sea turtle.
Among the many breath-taking beaches to be found on the north shore of St. John, Hawksnest beach is one of the best. While enjoying your visit at VillAllure, be sure to stop by the beach and experience the awe-inspiring beauty firsthand!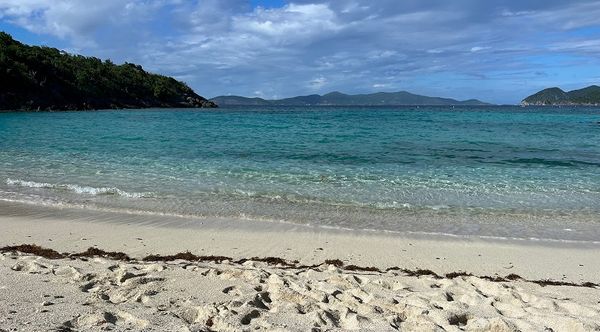 Jumbie Bay Beach
Looking for that deserted island, private oasis moment on St. John? Follow the short, narrow path, surrounded by lush green foliage, to the stunning view of crystal turquoise-blue waters lapping the crescent-shaped, white sandy beach known as Jumbie Bay. This very private beach has acquired its name due to the highly treasured Jumbie trees found throughout the enclave of tropical forest surrounding the bay. Local legend claims the Jumbie tree possesses spirits that will bestow extreme bad luck to those who dare to cut it down. It's also rumored that many a pirate would bury their treasure next to a Jumbie tree, hoping that the fear of evil spirits would protect it from locals. Indeed, an enchanting tropical forest surrounds a beautiful and serene, enchanting bay.
Located along North Shore Road, between Hawksnest Bay and Trunk Bay, this secluded, small soft sandy beach is about 80 yards long. The parking is limited to about 6 vehicles across the street, and admission is free to this little piece of paradise. There are no public facilities available here, but there is plenty of sunshine or shade under breezy branches, to relish your picnic, snorkeling and sunbathing on the idyllic Caribbean beach. It also offers views of magnificent sunsets as you wind down your day on this spectacular oasis .
Jumbie beach is a shallow bay, and most days the surf is calm and ideal for swimming or snorkeling. On the left side of the bay, you will find a gathering of rocks. Snorkel this area and take in the amazingly beautiful underwater scenes provided by the hideaway for sea creatures and dazzling, colorful fish. When the waters are not so calm, lounge peacefully on the soft sandy beach as mother nature provides dramatic views of powerful wind and surf.
While you're relaxing and enjoying your stay at VillAllure yet looking to experience that deserted island or private oasis moment, grab your cooler, food, drinks, and gear and escape to the enchanting "secret" gem known as Jumbie Beach, St. John.